Spoiler alert - you don't have to be a mental health expert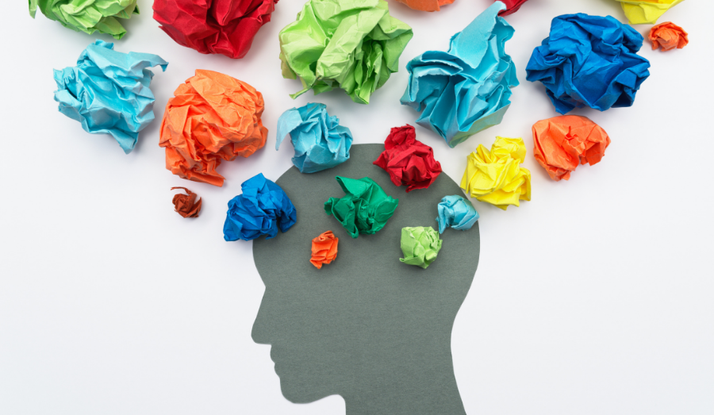 Today, workplace mental health is on everyone's mind. Research and data-driven evidence have confirmed the relationship between mental health and our workplaces. Employees should be able to work to their potential without a negative impact on their mental health, and employers are obligated to ensure the workplace is not detrimental to wellness. When we meet with leaders to talk about mental health in the workplace, we hear the same questions. People want to clarify their responsibilities to employees and learn how to provide meaningful help.
It's easiest to start with what leaders are not responsible for regarding employee mental health.
Leaders
Do not diagnose or recommend treatment,
Do not act as a confidante, and
Do not have to be the only form of support for an employee.
Knowing this takes some pressure off leaders who worry about the boundaries of their roles. As a leader, you may not be responsible for these things, but you do have specific obligations to support employees and their mental health in the workplace. Your role is to focus on a culture of prevention and appropriate action in response to concerns. We've put together three steps that every leader can take.
1. Lead by example
One of the most powerful steps you can take to improve the impact of mental health on the workplace is to lead by example. This means taking the time to understand your mental health status, connecting with the right health professionals, and implementing recommended changes. Another way to lead by example to learn how to communicate respectfully about things like health and illness. The benefits of this are twofold. First, others will pick up on how you communicate and start to incorporate similar strategies into their communications. Second, respectful communication makes it easier for employees to feel safe enough to have important conversations with you about how they are doing.
2. Learn about the mental health continuum
You don't have to know how to diagnose or treat mental health concerns, but you do need to learn about the mental health continuum so that you can assess how your employees are doing. The mental health continuum is comprised of five zones that range from in crisis to excelling.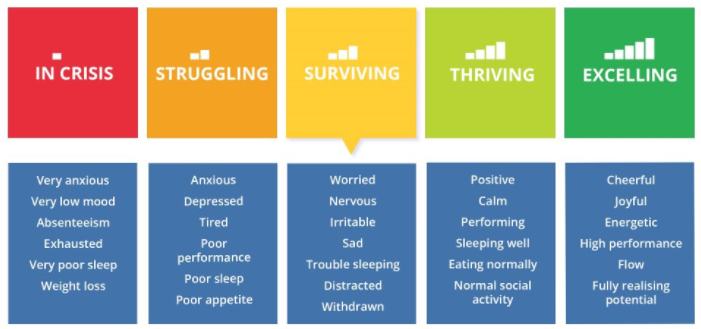 Ideally, leaders want team members to thrive and excel, but it isn't realistic to assume they will always stay in those zones. By taking the time to identify each employee's baseline zone, it becomes easier to recognize when they are struggling and offer support quickly. In the absence of this tool, employees are more likely to slip into the struggling or crisis zones. This step is where the magic happens; once you understand the continuum and how to use it, you can begin to create a better workplace for all employees.
3. Ensure resources are available
Leaders must know what resources are available to employees and how they can be accessed. If they don't, employees are less likely to seek additional support and more likely to continue struggling. Leaders should make this information available in a variety of ways. This can be done verbally, via a shared drive, in departmental newsletters or emails, and posted on the walls in common areas. Reaching out to the Human Resources department and other leaders is a great way to get this information.
The role of the leader in supporting employee mental health is essential. If you feel overwhelmed or unsure about how to fill this role successfully, you are not alone. We have delivered specialized training to leaders like you and helped them clarify their role in workplace mental health, gain skills to understand the mental health continuum, and start to use the right approach to create a workplace where employees thrive.
Contact us to learn more!