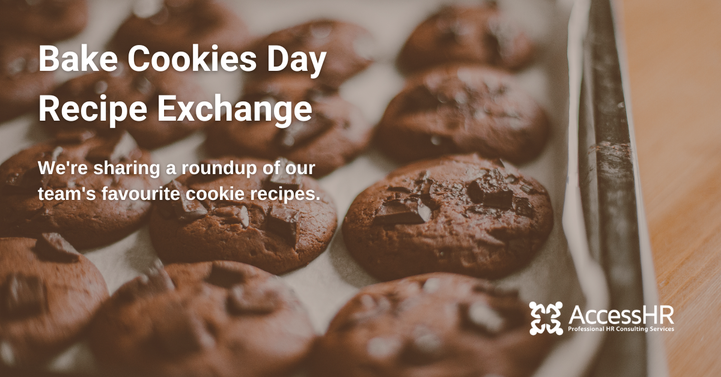 The AccessHR team takes cookies very seriously. So, in light of Bake Cookies Day, our team of Principals and Associates are sharing their favourite cookie recipes with you. Some recipes are passed down from family, some are creations by our team, and others are internet favourites.
Enjoy the anecdotes and recipe improvements so you can enjoy the perfect treat with friends, family, colleagues, or by yourself.
Happy baking, and happy Bake Cookies Day!
Sheri Brake - Cookies of Power
"Julie Van Rosendaal is my go-to for all things baking. She knows her stuff and she voluntarily entertained my kids during the pandemic.  You can't beat that!
I love these cookies… you can mess with the recipe, and they still turn out great!  Sometimes we add more or less chocolate.  We can make them with lots of seeds (hint I throw in loads of sunflower, sesame, and pumpkin seeds and even some chia!) instead of nuts and they can go in the kids' lunchboxes for school.   With bran, nuts and seeds I have even been known to let my kids eat them for breakfast (working mom hack!)."
Cookies of Power - Dinner With Julie
Steve Cutler - Shortbread and Chocolate Salted Halva Fudge with Tahini Drizzle
"Shortbread was always my favourite Christmas cookie as a child and still is today. Here is a recipe that is as close to my gramma's as I can find!"
Grandma's Scottish Shortbread Recipe: How to Make It (tasteofhome.com)
"Also included is a fudge recipe that is "free" of just about everything but is delicious!"
Chocolate Salted Halva Fudge with Tahini Drizzle
Deb Chalmbers-Bushe - Cranberry Pistachio Biscotti
"Our favourite holiday cookie recipe is most definitely this Biscotti one. We use whole raw almonds in place of the pistachios (just fold them in as they are, no chopping) and also reduce the sugar a bit (especially if the cranberries are sweetened). These are terrific with morning coffee, have a longer shelf life given the olive oil vs butter and box up beautifully for mailing to friends and family.  Don't let the somewhat healthier sounding ingredients throw you off, these are wonderful. Enjoy!"
Ingrid Kihl - Berlinerkranser
"Oh … My childhood memories of Christmas Cookies!  My mom made about 144 dozen cookies at Christmas of about 6 or so different types. Beautiful plates put out for any and all gatherings. A few were from my Norwegian heritage, my father's parents from Norway.  The Berliner Kranser cookie is a golden brown, crispy, melt-in-your-mouth butter cookie.  I was able to secretly snag dozens and dozens of them over the years as the 3rd born child no one was watching! 
It was of course a passed down recipe back then, but here it is on the internet too. Their flavor is incredibly unique, and they're the only cookie I've ever seen that contains hard-cooked egg yolks!"
Berlinerkranser (Norwegian Wreath Cookies)
Heather Beck - Whipped Shortbread Cookies
"Whipped shortbread is probably my favourite – just butter, sugar and flour (and of course a maraschino cherry if you're feeling adventurous).  I'm a minimalist and don't use the one with cornstarch (and I usually don't have any on hand!)"
Amanda Neale - Grandma's Gingersnap Cookies
"Cookies are a definite weakness for me! A favourite is the Ginger Snap Cookie and attached is a recipe I like. I double the ground ginger to give them more snap."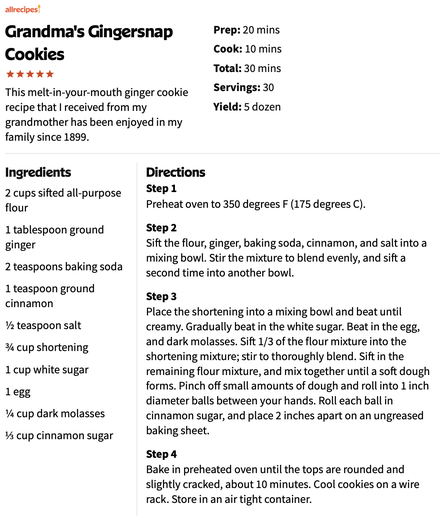 Peggy Smigarowski - Chocolate Haystack Cookies
"The next cookie I eat is always my favorite! I always miss my mom at this time of year. Her favorite cookie to make was always Chocolate Haystack Cookies. Her recipe is handwritten the old fashioned way."
Chocolate Haystack Cookies Recipe
1.5 cups white sugar
.5 cup milk
.5 cup shortening
5 tablespoons cocoa
3 cups oats
1 cup coconut
1 teaspoon vanilla
Combine sugar, milk, and shortening in large pot and bring to gentle boil, add cocoa. Remove from heat and stir in oats, vanilla and coconut until well mixed. Drop by teaspoon onto wax paper lined cookie trays. Refrigerate until set.
Trika MacDonald - Nanaimo Bars
"My favourites are Whipped Shortbread and and Nanaimo Bars.  Not exactly a cookie but was something my mom always made at Christmas so now I make them for my kids and grandkids."
Nanaimo Bars Recipe
1 cup graham cracker crumbs
1/2 cup sweetened shredded coconut
1/3 cup finely chopped walnut
1/4 cup cocoa powder
1/4 cup granulated sugar
1/3 cup butter melted
1 egg lightly beaten
Filling:
1/4 cup butter softened
2 tablespoons custard powder
1/2 teaspoon vanilla
2 cups icing sugar
2 tablespoons milk (approx)
Topping:
4 oz semisweet chocolate chopped (or chocolate chips)
1 tablespoon butter
In bowl, stir together graham crumbs, coconut, walnuts, cocoa powder and sugar. Drizzle with butter and egg, stirring until combined.
Press into parchment paper–lined 9-inch (2.5 L) square cake pan. Bake in 350 F (180 C) oven until firm, about 10 minutes. Let cool in pan on rack.
Filling: In bowl, beat together butter, custard powder and vanilla. Beat in icing sugar alternately with milk, making 3 additions of sugar and 2 of milk and adding up to 1 tsp more milk if too thick to spread. Spread over cooled base. Refrigerate until firm, about 1 hour.
Topping: In heatproof bowl over saucepan of hot (not boiling) water, melt chocolate with butter; spread over filling. Refrigerate until chocolate is almost set, about 30 minutes. 
With tip of knife, score into bars; refrigerate until chocolate is completely set, about 30 minutes. (Make-ahead: Wrap and refrigerate for up to 4 days or overwrap in foil and freeze for up to 2 weeks.) Cut into bars. 
Janice MacPherson - Gluten-free Shortbread and Hello Dolly Squares
"Shortbread is also my favourite, but I have yet to perfect a gluten-free recipe for them. The best one I've found is this one: Velma's Gluten Free Shortbread.
A Christmas recipe from home that I love to make is Hello Dolly Squares"
Hello Dolly Squares Recipe
½ cup butter
1 cup finely crushed graham wafers (gluten free if needed)
1 cup shredded coconut
1 pkg chocolate chips
½ cup chopped nuts (I like to use slivered almonds)
1 can sweetened condensed milk
Melt butter in 9x9 pan. I use a glass casserole dish, and I spray the sides with cooking spray. Then sprinkle graham wafer crumbs, coconut, chocolate chips and nuts evenly over the melted butter. Pour milk evenly over everything. Bake in 350 degree oven for 35-40 minutes. 
Catherine Watson - Eggnog Cookies
"Just to be different, here's a picture of my handwritten recipe for Eggnog Cookies. They freeze really well!"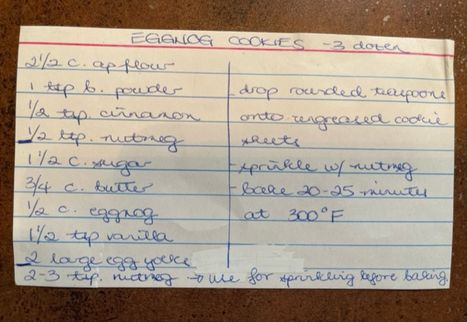 Hillary Murray - Coconut Chocolate Squares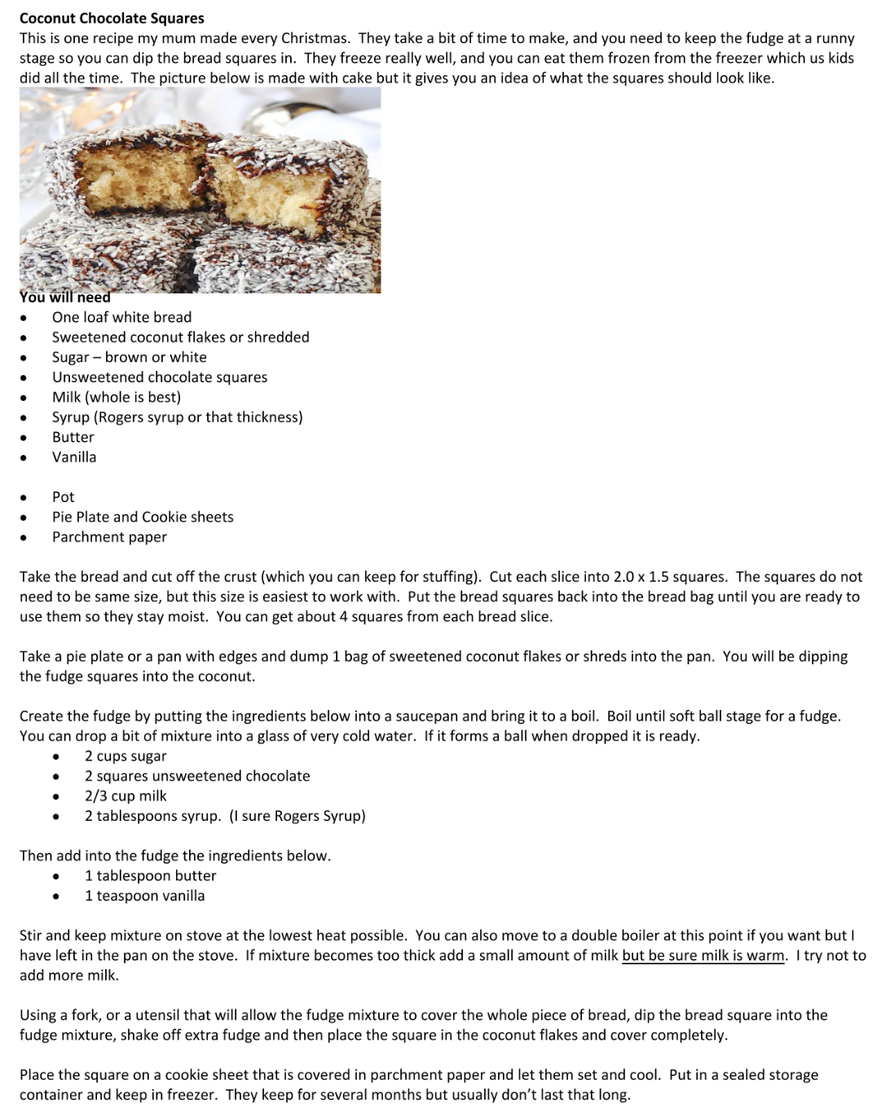 Leah Jerhoff - Compost Cookies
"Like others, I am not a baker, but my daughter, Madison, is. My favorite cookie that she makes Is the Compost Cookie by Christina Tosi! Madison makes a batch and them freezes them in large cookie balls. We bake and eat as needed (they do not last long)!"
Compost Cookies by Christina Tosi
---
AccessHR Inc. provides professional HR consulting services with exceptional quality, creativity and ethical practice. When it comes to supporting clients, we focus on doing the right thing. Get in touch today.